NEWS RELEASE
For Immediate Release
November 10, 2023
Contact: Kris Reyes
(831) 332-6966
[email protected]
Santa Cruz, CA – Drive for Schools, the largest school fundraiser in Santa Cruz County, raised $754,709 for the 78 local schools participating this year. The total for 2023 represents the largest amount of money ever raised in a single year in the history of the program. Sponsored by the Santa Cruz Beach Boardwalk, Drive for Schools has raised $9,471,311 for Santa Cruz County schools since the program started in 2005.
The winner of the $25,000 grand prize was Paddy Easton of Aptos. Paddy and her husband have raised three children in Santa Cruz County. Her oldest just started attending San Diego State, and her youngest is attending Twin Lakes Christian School. She has been supporting Drive for Schools for about 10 years. The week before the Drive for Schools drawing, Paddy had a strong feeling that she was going to win.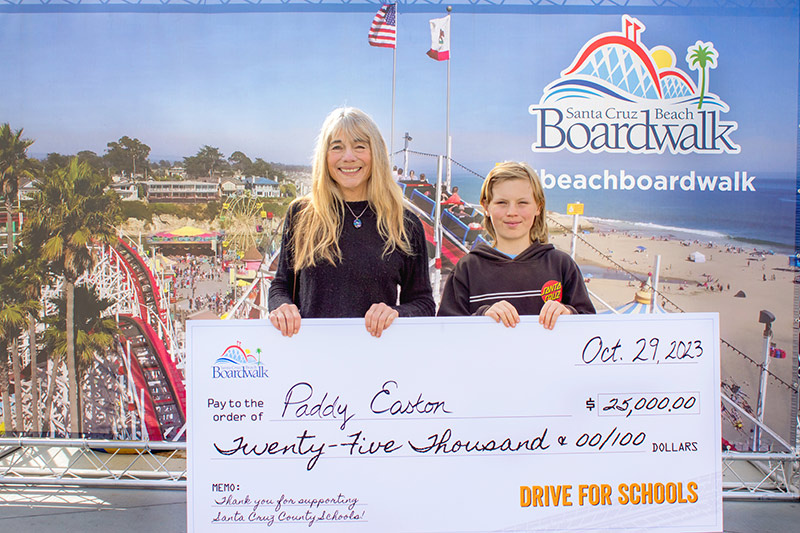 In addition to the $25,000 grand prize donated by the Santa Cruz Beach Boardwalk, local businesses donated over 100 prizes totaling more than $46,000 in value. Participating Santa Cruz County schools keep all the proceeds from their ticket sales and use the money raised to fund important school programs.
"Drive For Schools means so much to our little school. It is our biggest fundraiser of the year, and it honestly brings everyone together for a common purpose," Christine Cook from Mar Vista Elementary School said. "The students, their families and our teachers work together to raise the money and it really sets the tone for the rest of the school year. This year our goal was to raise money for an art program and to do some upgrades around our campus."
Drive for Schools runs for approximately 5 weeks every fall. The Santa Cruz Beach Boardwalk covers the cost of the cash prizes and donates staff time to organize and run the fundraiser. Tickets and posters are generously printed by Mission Printers. Hundreds of school volunteers coordinate their school's ticket sales. Visit https://beachboardwalk.com/drive-for-schools for a complete list of winners.
# # #